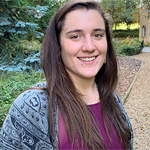 Apprenticeship: Cultural Learning and Participation Officer Level 3
Job title: Public Engagement and Festivals Assistant
Department: Office of External Affairs and Communications
Training provider: Access to Music
Why did you choose to do an Apprenticeship?
I had been looking into Higher Education for a while and when I came across this apprenticeship I realised I could combine my professional development and study whilst still working full time.
The first lockdown started in March 2020 and I began my apprenticeship in April 2020. To me it seemed like a good opportunity to use the time working from home, with no live events to deliver, to develop my event management skills. The Cultural Learning and Participation Officer apprenticeship offered me the chance to enhance my knowledge in the areas of fundraising and grant applications specifically. 
What was your experience of the apprenticeship and your training provider?
Bearing in mind I was working on my apprenticeship during a very difficult time, it was a positive experience. But, in other circumstances, I suspect there may have been slightly fewer staff changes at Access to Music and slightly better communication. But I feel this played into my skills and learning in many ways and it proved that I was really committed to completing the apprenticeship. 
What went well?
I enjoyed the learning experience and it gave me a sense of purpose and focus. I enjoyed meeting the other students on my course (online) and it reinforced my view that networking is so important in this area of work.  It also gave me a broader idea of what other people are involved in, in other parts of the country and the industry generally.
As a result of my enhanced studies and knowledge, and with the support of the apprenticeship, I was instrumental in delivering two fully online interdisciplinary public festivals, with a combined total of over 400 events.
What have you learnt?
To be completely honest - first and foremost - to have more faith in myself and my abilities!
This increased my motivation to work independently at a time when working from home was very difficult if you hadn't been used to it.
I learnt to think more deeply about audience needs when planning and communicating about public events. I also now appreciate more fully how to determine and measure the success and impact of my work and events through reporting and evaluation. I was able to support one of the Museums locally in Cambridge through an Arts Council application, which provided me with some excellent hands-on experience of fundraising.
What next?
Successfully completing the apprenticeship has opened up new possibilities which I now feel ready to embrace. I intend to develop my skills through courses within the University, but also externally through the National Co-ordinating Centre for Public Engagement (NCCPE). I am about to become responsible for one of our team's projects, Open Cambridge, which is run in conjunction with Heritage Open Days (HODs). I have applied for a place on the HOD's New Wave training and development programme, which will focus on working with young adults to develop new and innovative events, something which is dear to my own heart and which I feel is lacking in the current programme.
"The apprenticeship was a welcome and very positive experience, which enabled me to turn a potentially difficult situation into a positive opportunity. I really did have the best of both worlds - a further education experience which fitted in so perfectly with my own job.  I know that I made the very best of it and feel proud of my personal and professional progression.
From Hannah's line manager:
Hannah has really risen to the challenge of her apprenticeship, not least as much of her learning and assessment took place during times when we were working remotely. I feel this experience has enabled Hannah to really develop her skills, and to share her knowledge with colleagues. I am confident that Hannah will be able to deliver our public events in new and better ways, as a result of the apprenticeship programme. I am also sure that the programme has given to her the confidence so she will be able to develop further too and I look forward to seeing what she does next.