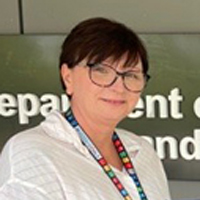 Apprenticeship: Leadership and Management Level 5
Job title: Executive Assistant to Head of Department
Department: Department of Chemical Engineering and Biotechnology
Training provider: Corndel
Why did you choose an apprenticeship?
It was recommended to me by the former Head of Department that I might want to consider undertaking some training in management and leadership. She felt this would enable me to progress my career further and indeed she was right! I have progressed from a Course Coordinator role to Executive Assistant.
What was your experience of the apprenticeship and training provider?
The apprenticeship involved a phenomenal amount of hard work and there were times when I felt overwhelmed. With the support of my line manager, colleagues, and course tutor, I persevered and passed the apprenticeship with a Distinction! The training provider was excellent and provided an easy way to monitor progress throughout the course via an online portal. My course tutor was incredibly knowledgeable and supportive. I also undertook Level 2 Maths and English qualifications, and my tutor for those was outstanding.
What went well?
At first, I found it hard to find the time to work on the apprenticeship tasks. However, after a couple of months, I started to build the time into my daily schedule and found things so much easier. Having a colleague who was undertaking the same apprenticeship at the same time really helped with the process and we were able to bounce thoughts and ideas off each other. The way Corndel presented the coursework appealed to me and the way that I like to structure my work, so I found working through and completing each task in turn simplified the process.
What did you learn?
I have learnt so many new things. The apprenticeship didn't just teach me how to be a manager and leader, it also taught me project management skills. The Head of Department issued a work-based project for me to undertake as part of the apprenticeship and I thoroughly enjoyed the process. I learnt literally everything I needed to know to complete the project from scratch. Whilst it was a massive learning curve for me, I embraced the process and took on the project with much enthusiasm. I delivered a hybrid meeting solution for the department which is now in use in three meeting rooms, and we are expanding into a fourth.
What next?
I plan on undertaking some work shadowing opportunities with other EAs in the University to gain an understanding of how they approach the role in their particular department.
Undertaking an apprenticeship was an incredibly scary prospect, especially at my age and with a particularly difficult home situation. I did badly at school due to family health issues at the time and didn't expect to excel at the apprenticeship. I knew that, if I gave it my best shot, I could really get to grips with the course and apply the learning in my EA role. Having passed with a Distinction, which came as a complete shock to me, I have proved to myself that I can do it! I try to apply the learning to my role every day and look forward to where this qualification can take me in the future."
From Karen's line manager:
Karen made phenomenal progress in this programme. She has an incredibly busy job as EA to the Head of Department, and all lines of operation go through her office, and it was a particularly eventful year with Covid restrictions in place, and the operational challenges this brought. The way Karen managed stay on top of the course work for the apprenticeship is extraordinary considering her professional responsibilities. She took courses on the side in subjects she had not been taught at school and finished the apprenticeship with a distinction – a hugely impressive achievement.
In terms of notable outcomes from the programme: Karen has become a confident writer and speaker and is assertive in running meetings and groups and has taken on managerial tasks with greater confidence. She is confident to take strategic decisions and is assertive and yet respectful of her peers and colleagues. She has benefited greatly from the programme.