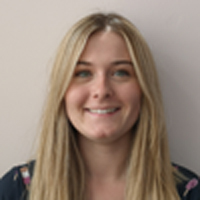 Apprenticeship: Business Administration Level 3
Job title: School Office Administrator
Department: Clinical Medicine
Training provider: Cambridge Regional College
Why did you choose an apprenticeship?
I wanted to carry on learning and developing vocationally, and I was certain that an apprenticeship would give me the valuable experience required to help define my career path.
The balance of work, education, responsibility and being salaried felt the right path for me and would continue to enhance my skillset. I have always excelled in a workplace environment and I enjoy being part of a team.
What was your experience of the apprenticeship and training provider?
I found the apprenticeship fun, informative and interesting. It taught me a lot about the job I am doing today and really built up my confidence. The apprenticeship also allowed me to enhance my skills from School and adapt them to the workplace.
What went well?
My biggest success during my apprenticeship was planning both the Christmas Event in December 2019 and December 2020 for the Office. It was challenging at times but very rewarding once complete. The following year I also planned and hosted a section of the Christmas Event via Zoom. It taught me a lot and I really enjoyed both events.
What did you learn?
I have learnt a lot doing this apprenticeship: being new to an office and a general, full-time working environment; being able to manage and organise my time effectively with both my day-to-day work and the college work.   
Being able to do an apprenticeship really helped with understanding the background of my place of work. For example, there were times in the apprenticeship work where I was asked to look into policies and the visions of the workplace.
What next?
In March 2021, I finished my apprenticeship with a distinction. This was a big achievement for me along with my promotion to School Office Administrator.
In my new role, I will continue to add to my skillset that I learnt being an apprentice. For example, I will now be helping my line manager with REF Audits, as well as taking on more tasks and project work from across different divisions. I will also continue with a lot of my IT based work, such as updating the Clinical School Office website.